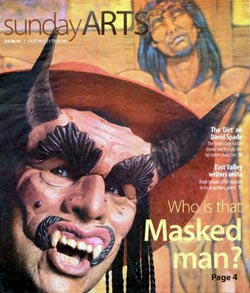 My career as a professional artist began in 1972 when I had my first One-Man Exhibition of bronze sculptures and ceramic masks in Cuernavaca, Mexico. I had moved to Mexico from Arizona in 1972 after traveling in Europe and the U.S. for one year. I went to work in the De Aguila Bronze Foundry in order to learn the art of bronze casting and to study the Post Revolution Muralist Movement of Mexico. Under the guidance of Mexican master sculptor Francisco Zuñiga, who also produced his works at the De Aguila Foundry, I completed a collection of 20 medium size figurative sculptures. The underlying theme of my sculptures was the human condition , particularly the situation of indigenous people in Mexico and Latin America. I considered the subject of figurative sculpture in Mexico and the Southwest to be grossly romanticized and overtly commercial. As a visual artist I adopted the philosophy of art with a social conscious and adhered to the ideology of David Alfaro Siqueiros, while being profoundly inspired and motivated by such artists as Kati Kollowitz and Goya. During the four years that I worked in Mexico, I lived in Tepoztlán, Morelos, a Náhuatl indian village. It was in Mexico that I first formed relationships with masks makers from Tepoztlán and the surrounding states of Guerrero and Michoacan. Fascinated by the rich cultural legacy of the mask in Mexico, I adopted the mask as an experimental form of sculptural media.
Upon my return to the U.S.A. in 1974, I was appointed to the position of Artist-in-Residency at Stanford University, California for a 6 month period. During my stay I completed two major mural projects at Casa Zapata and began my career as a poet and performance artist, giving poetry and music presentations at colleges and universities throughout Northern California.
In 1975 I returned to my native Arizona to work as community muralist for the Arizona Commission on the Arts CETA Program. I completed 30 murals in schools, housing projects and at Indian reservation locations. A collection of the 20 bronze sculptures I had created in Mexico called "HumaniZarte" toured for two years as part of the Arts Commission Traveling Exhibition Service. During this time I was asked to lecture on my art in such places as Princeton University and the University of California at Berkeley. Also during this period I completed the Escalante Monument in Tempe, Arizona which consists of 3 life-size busts of the local brothers who gave their lives heroically in World War II.
It was in 1975 that I founded the Xicanindio Artists Coalition – now Xicanindio Artes, Inc. – a non-profit organization established to promote Native American and Chicano arts. The painting of murals, community arts and the performances of Latin and indigenous music in schools became the main revenue producing function for Xicanindio. This non-profit organization has since grown to be a dynamic cultural force in the Phoenix area and the Southwest.
In 1978, I traveled to Brazil and the Andean countries of South America for a period of one year to research indigenous art forms, ceremony and rituals. In 1979, I returned to Arizona determined to further develop the mask art form and integrate its use in contemporary culture. As Artistic Director, I created the Día de Los Muertos Festival which has become the venue for my mask making endeavors and it is during this celebration on the first Sunday of each November in Mesa, Arizona that the Nagual mask ritual takes place. The festival has become one of the most unique of its kind in the Southwest and has been celebrated for over 20 years.
In 1980, I received the commission to produce the Ruben Salazar Award Busts. The much coveted award is presented yearly to Outstanding Hispanic Journalists by the National Council of La Raza.
In September 1984 P.B.S. aired nationally a one hour documentary called The Mask of El Zarco as part of the Hispanus Series produced by La Raza Production Center in Washington D.C. The documentary focused on my work as a mask maker and provided invaluable exposure on a national and international level as the program was also aired in Mexico.
In 1986, I was awarded the Japan Fellowship from the National Endowment for the Arts and spent 9 months in Kyoto. During my residency in Japan I was the personal apprentice of Joshun Fukakusa, a master of the Noh Mask.
While working with Fukakusa, I completed 5 Noh masks and was able to exhibit my work alongside my sensei/teacher and his father, the National Living Treasure Noh Mask Maker Ujiharo Nagasawa. Intense study of the Japanese language enabled me to conduct extensive research in the area of Japanese masks and to visit many prominent artists, museums and collections of rare and ancient masks.
I traveled to China and Thailand in 1987 to further my research and documentation of oriental mask making. My travels in Asia were completed after 6 months of living in Bali, Indonesia, where I carved ancient archetypes with native carvers, most specifically Ida Bagus Sutarja, who is one of the few Balinese priest/maskers qualified to create sacred masks for ritual use.
I returned to America in 1988 and have since created personalized masks for dance and theater companies and productions in Japan, San Francisco, Chicago and here in Arizona. I am one of the 40 artists featured by the local PBS station Arizona Art forms.
1990 was the year I began the application of my masks to the theatrical stage. A play which I wrote Song for the Forest People was performed by the Arizona State University Institute for Experimental Arts. The play, a dance opera, utilizes over 30 masks made of paper, fiberglass and carved wood. Another play entitled La Mascarada de la Vida, produced locally by the theater for young audiences group Childsplay, Inc., was highly acclaimed in Arizona and performed at the Kennedy Center in Washington D.C. In La Mascarada I played the main lead role, co-wrote the musical score and produced over 25 masks including a 7 foot tall puppet.
In 1993, I was awarded the highest artistic recognitions in the State of Arizona: The Governor's Arts Award and also the Scottsdale Cultural Council Chairman's Artist of the Year Award.
A life long dream was realized in 1994 when I was commissioned to produce an 8 foot tall bronze figure of labor leader César Chávez. The sculpture was the first such monument of its kind in the Southwest and a milestone for me as a sculptor. At this point, my career took a drastic turn as I began to concentrate on developing a one man masked drama called Face to Face in a Frenzy.
For the past ten years, I have performed over one thousand times to schools, conferences and festivals for over 30,000 people. Face to Face has become my main form of performance expression. I continue to carve masks in wood, make masks for theater and create sculptures on commissions. I feel that this form of mask performance is unique and extremely effective in reaching large audiences. It has given me the ability to use the power of the mask to transform. With this power I am able to express my feelings and ideas in many ways that are just not possible with other forms of art like sculpture and painting. I believe it to be my true calling as a contemporary, socially conscious artist. It allows me to work outside the mainstream while contributing to the cultural life of my community in a creative and positive manner.